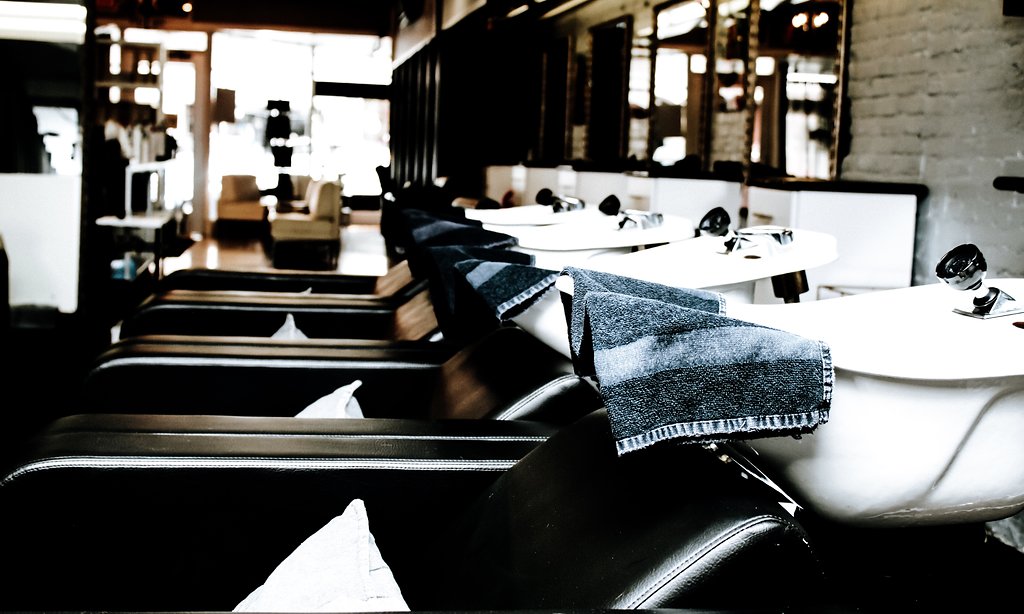 Salon Services
The world is constantly changing — as are we, so why shouldn't our hair!
As one of Rapid City, SD's Paul Mitchell Signature Salons, we live, breathe, and produce the high quality standard that is Paul Mitchell. Our menu of services and products at AJ's Wicked Salon & Spa assist us in delivering a full-service, naturally-based salon experience.
In addition to Paul Mitchell products, we are thrilled to exclusively introduce Oribe Hair Care to our Black Hills region. As an award-winning, best-selling brand, Oribe blends ultra high-tech performance while maintaining clean, modern formulations. Created without parabens and sodium chloride, all products are gluten-free, vegan, cruelty-free, color safe, dermatologist-tested, and have UV protection for hair. For your at-home care, Oribe performs like magic.
Whether you want to stay classically you, or prefer to push the edges of fashion, let us help you live beautifully.
MEN
Haircut with Style | $23 & Up
Beard Trim | $15
Style | $15 & Up
Brazilian Blow Out | $100
WOMEN
Haircut with Style | $38 & Up
Bang Trim | $12 & Up
Blow Dry & Style | $30 & Up
Up Style | $60 & Up
MEN
Color Touch-Up | $25 & Up
The Color | $40 & Up
PM Shine | $25 & Up
Grey Blending | $20 & Up
WOMEN
Color Touch-Up | $50 & Up
The Color | $75 & Up
Partial Highlight | $85 & Up
Full Highlight | $105 & Up
Creative Color | $160 & Up
Color Correction | $160 & Up
Brazilian Blow Out Experience
The only smoothing treatment to actually improve the health of your hair.
Blowout, Wash & Experience | $300
Make Up Applications
Make Up Application | $55
False Lashes | $15
Extensions
Quote upon complimentary consultation.
TAPE-IN EXTENSIONS
• Bellami
• Great Lengths
• SO Cap usa
• Fusion
**Services are based on a 3-tier level system. Prices are subject to change due to hair length and thickness.**
**Our stylists reserve the right to double book. If you would like to request a non-double booked reservation, ask us about our accommodation fees.**
Re-Do Policy
In the event that you are dissatisfied with your hair, we would be happy to have you return to the salon for a correction. A re-do appointment will be scheduled, if notified within 72 hours of your original appointment, within a two week time period with the same stylist who provided the original service. If you feel your original stylist is unable to provide the service, this rare occasion will be considered, an exception will be made.
If a re-do request is not made within the 72 hour period or the changes requested vary greatly from what was agreed up during your original appointment, this will be treated as a new appointment and will be charged accordingly.
Spa Services
AJ's Wicked Salon & Spa has created an environment that is tuned into the necessities of comfort and relaxation. The Wicked Spa Experience is designed to revive and rejuvenate the longevity of healthy skin, along with the functionality and repose of your body's muscle groups.
Using only organic, paraben-free products — brought to you by Eminence Organics, Inika Organic, and theBalm Cosmetics — our highly trained therapists are sure to have you functioning at your very best.
STREAMLINED 45—75 min | $55 & Up
SIGNATURE SPA 60-90 min | $70 & Up
PRENATAL 60—90 min | $70 & Up
Skincare
EMINENCE VITA SKIN FACIAL 50—80 min | $75 & Up
Add Lip Treatment to any Facial | $15
EMINENCE PEEL OPTIONS 50—80 min | $80 & Up
• Mangosteen Lactic Peel — Resurfaces skin and minimizes pores by removing impurities and dead skin cells. A lactic acid, revitalizing peel that is self-neutralizing and non-irritating.
• Paprika Herbal Treatment — Immediate skin stimulation resulting in a rosy glow appearance. The complexion appears revitalized, youthful and radiant.
• Yam & Pumpkin Pro Enzyme Peel 20% — The appearance of dark spots are reduced and skin appears firm and plumped.
• Blueberry Detox Firming Peel — Pores size appears reduced, and skin appears clear and radiant.
• Radish Seed Refining Peel — Helps prevent the appearance of breakouts and stimulates skin renewal.
• Pineapple Enzyme Peel 10% — For gentle, but effective results. Helps open pores, assisting in exfoliating the skin and preparing it for further treatment.
• Arctic Berry Pro Advanced Peel Activator — Skin appears dramatically refined and smoothed. This peel helps with uneven skin tone and the skin appears firmed and plumped.
Body Wraps
EMINENCE BODY WRAPS 60 min | $100
• Blueberry Soy — Firming and hydrating; stimulates circulation to refine and strengthen the appearance of your skin's structure
• Herbal Cellulite Treatment — Regenerating and toning; increases the appearance of elasticity
• Mango Enzymes — Active enzymes and vitamins; infuses your skin with hydration and gently exfoliates to leave a refreshed look
• Pear & Green Apple — Moisturizing and rejuvenating; increases elasticity and improves the texture of the skin
Waxing & Tints
TINTS — Brow Tints | $20
FACE — Lip, Eyebrow or Chin | $5 & Up
LIMBS — Leg, Half Leg, Arm, Half Arm or Underarm | $25 & Up
BODY — Bikini, Brazilian, Chest or Back | $40 & Up
Eyebrow MicroBlading & Ombre Powder
Initial Session — $350
Perfecting Session — $50